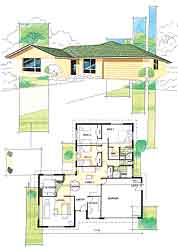 Auckland's property market: circa 2000 to 2010

In this example, there are two new houses in a new subdivision 10 kilometres out of Auckland Central. Let's imagine they are the GJ Gardner Design # 358 - a nice 240 square meter family home costing (in those days) around $900 per m2, or just over $200,000.

Add another $150,000 for a 600 m2 section, and this house would sell for $350,000 "brand new".
Mr Sadd purchased house #1 and the happy Gladd family house #2.
In the next 12 months, the Gladds added "improvements" to their happy family home.

They fenced the property, added a concrete driveway and double car garage. They bought a portable spa pool and pergola for it, and installed a Cascade "Jupiter" family sized pool.

They spent a total of $100,000 - bringing their total investment to $450,000 - and settled down for a happy life.

In the meantime, Mr Sadd spent NOTHING! No fence, No grass, No driveway, No Pool, No NOTHING!

Ten years on, both the Gladds and Mr Sadd decided to sell and move. The Gladds upwards, & Mr Sadd wanted to live in Morrinsville where houses are cheaper!