Cascade CustomerS:
Use this form BELOW to add your REFERENCE OR comments...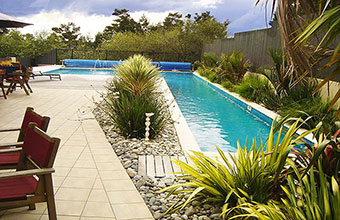 We were very pleased that our five-year-old pool won the Best Ecological Setting GOLD MEDAL in the recent Swimming Pool Builders photographic competition.
The pool is still in great condition after five years, and the kids and us have had many hours of fun and enjoyment swimming and entertaining friends
- so thanks!
You have made a diifference to our life!
AMC - Auckland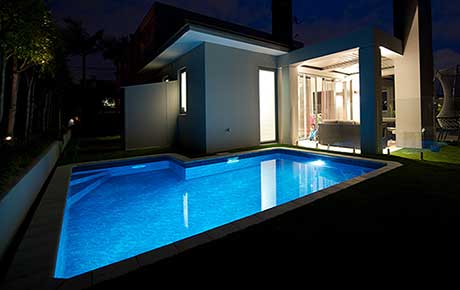 Hi, we were thrilled that our pool won a GOLD MEDAL in the Swimming Pool Guild photographic competition for pools uner $50k!
We've had the pool two summers now and it's still the center of attraction for the kids and our visiting friends!
Thanks again - Fran WS - Auckland

Dear (Cascade Handover person), Great to see you again yesterday – thanks heaps for the instructions/handover.
We all love the pool and the excellent work done by your capable team. Final payment sent yesterday afternoon.
We are very happy customers!
Louise - North Auckland




You built our pool back in 1976 and I must tell you it's still going strong.
It's gone marvelously over the years, but may need upgrading soon - particularly the filtration and pump.
We are a retired gentlemen's home and our resident 'pool man' wants someone else on pool chemical duty.
We have been talking to Pool Valet people, but they want to fit a Salt Chlorinator.
Could you comment please? - Rodney - Onehunga


Response" "Our suggestion is to take advantage of the latest 21st century equipment and fit a '95% reduced chemicals' Ozone unit.
Our PROZONE has very low running costs and a 5 year UV cell guarantee.
This will reduce pool chemicals, mainenance costs and probably eliminate the need for a separate Pool Valet service".
Regards - Larry

We are hopefully selling our house soon (the Auction is next Saturday). I thought I might get you in to do a report on the pool you built for back us in 1993 or so when the kids were small, but at the viewings everyone has commented how good the pool looks (22+ yrs old! Our pool is # 5,023)
I thought I would refer these remarks back to you. In fact, the pool has never needed any maintenance, has never leaked, still looks great after more than 20 years, and is a credit to your company.
I think Cascade is a fantastic product, and I will be talking to you soon about the new house we have bought now that the children have grown up and moved.
Drop in and have a coffee before we move.

Regards, Malcolm E - Hillsborough

The pool is great and we really had a ball in ithis summer.
The Rodney County Council were a bit of a worry, but that's all behind us now.
Thanks for helping us with them, getting our Compliance deposit back, and of course building us a lovely swimming pool that I can't keep the kids out of!
Sandra W - Haupaki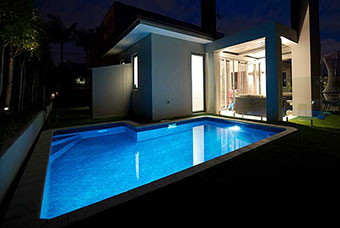 Our family and us love the pool and think it's really great.
The custom shape suits our property better than any of the pre-formed ones available and being able to specify the special depth we wanted was a bonus.
We love the nice smooth inside colour and finish.
Thanks for a great pool and great after sales service.
You can refer people to us anytime!
Fran WS - Remuera, East Auckland



I must admit I was a bit sceptical with your glowing descriptions of the Cascade pool system before we bought it, but now it's finished and we are using it, I have to say that you weren't exaggerating!
I am very impressed with the product and your workers, and am happy to give a written testimonial to this effect.
Thanks, Cascade.
Lindsay - Greenhithe

You guys rock. Service is fantastic and any issues resolved promptly.
If only all New Zealand companies delivered the same sort of service level.
Thanks Mark - Ponsonby
(Replaced broken skimmer flap in 7 yr old Cascade pool - no charge)

Thanks for the great job! The pool looks amazing and I have already been in to try before winter really comes. Cheque in mail - Once again thanks for the great job! Eric and Raewyn - Manukau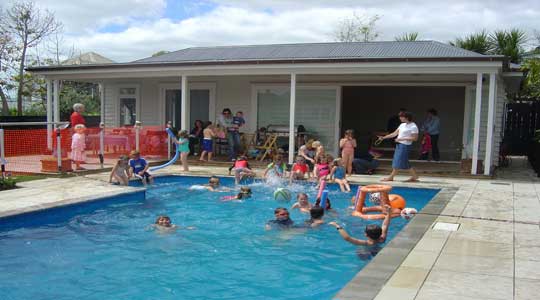 Here's a photo of our pool in full use by our youngest and friends on his birthday! I am very happy for you to use it on your wep page or advertising, and to be a referee for you as I keep saying to all our friends I think what we spent on the pool with Cascade is the best personal money we have ever spent (to date).

Our children and Mum and Dad have had so much fun with friends and family in the pool and especially in this 'day and age' with electronic devices all round, children need to be physically challenged and the pool certainly has kept them fit and water wise. We once spent the same amount on a boat and have had great fun with it but still I would say money spent on a pool is a much better family investment. - All the best Mark Y - Waterview -

Hi Larry, you built our pool nine years ago, and it's still really fantastic! I need a small service call on the skimmer feeder tube, but otherwise it's really great, and we were in swimming at 11:00pm last night. We are planning the building of a new home soon, so we will definitely be buying another Cascade pool! Yes, you can use me as a reference! - Martin H, Henderson

Hi Larry, we called for your latest brochure because we are planning a move to Hawkes Bay and are looking at lifestyle properties. If we find one without a pool, we will certainly be keen to have another Cascade pool. You have built three for us over the past twenty-five years, (our current pool is now nine years old) and I must say "we are more than satisfied with Cascade" - P.H, Drury


Please find attached a pool photo for you archives or advertising.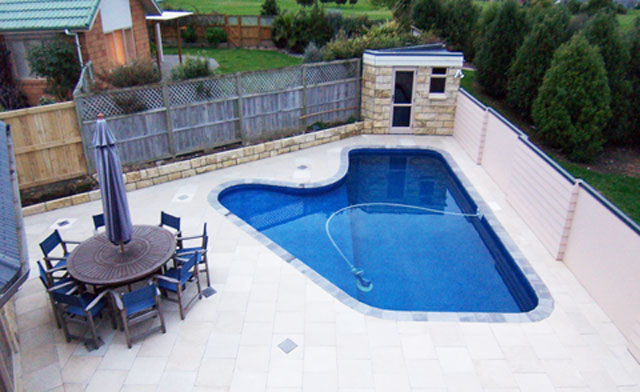 The pool has been a great investment & I would have no problems recommending your company to anybody.
This pool reaches 28-29 degrees in the summer & it is unheated. - Regards Z R - Hamilton, Waikato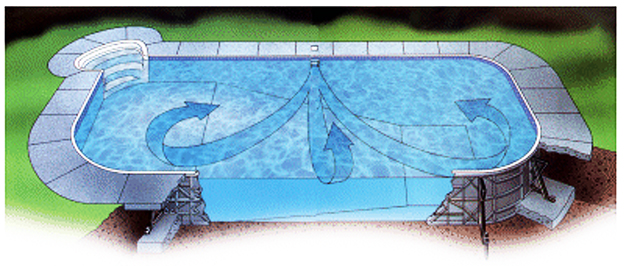 Since a few people showed interest for it, here are my impressions of the AquaGenie skimmer.

I've had my pool filled with water less than a month ago, so this is just preliminary info.
There's a fairly large tree in my neighbors yard, about 7 m from the edge of my pool. This is a nasty dirty tree, continually discharging leaves, seeds and ugly beetles. Before we had the inground pool installed, we had one of those above-ground swimming pools under it and it was always filled with debris falling from the tree.

So far, I'm amazed with how clean my pool has become.
As soon as a leave falls in the pool, you can see it go fairly rapidly around the pool wall and directly in the skimmer.

Not a single bit of debris has had time to sink to the bottom of the pool, they all end-up directly in the skimmer basket. I've had to vacuum the bottom of my pool occasionally, but only to remove sand and rocks that fell in the pool during the installation of the concrete surrounds.

The leaf skimmer net is still in the box, I've had no reasons to use it yet.
This is due to the AquaGenie design and I don't think any other skimmer type would work the same with the size and shape of my pool, but so far I'm a very happy camper - Greg G



I enclose a photo of my pool that you built for me in July 1979, so the original interior is coming up to 30 years old. Is this a record? (Editor: No- we are currently replacing a pool liner in a 1973 pool, and often get 40 year old pools to refurbish) We have had a great run with the pool and the kids really enjoyed growing up with it. Many thanks!
DS - Tauranga - May 2009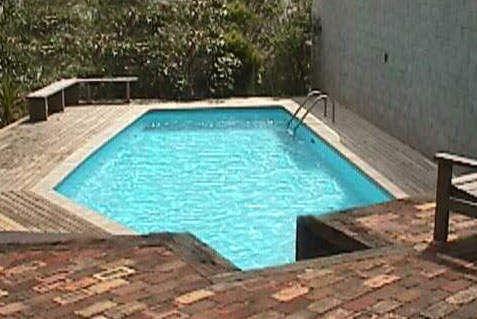 I was a bit worried about how dark the colour would look, (royal blue marble print with silver embossed overlay) but now it's been in for a year and a half, I still get a buzz when I look out the kitchen window and see the pool. Here's a photo - Jane B, Greenhithe -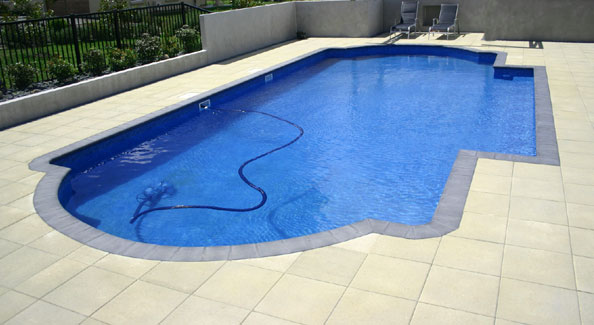 It's much better than the old concrete pool we had in our previous house,
which was a kind of pale bluey green. I love this new colour! D - Hamilton




Thanks, Cascade.
Staff all friendly & polite, Staff organised, coping man and handover man both excellent -
no problems with their work or final tidy-up - Graeme M, Conifer Grove .





Initial contact and pre-planning stage well managed and Cascade staff on site when required.
This is our second Cascade pool, as we upgrade our home locations and we are very happy with the final result. - Steven B, Remuera



- Cascade crew: Excellent. The pool: Great! Heritage Copings: Good. Installer: Great! Waiting for instructions on how to use Heat Pump, otherwise nothing else needs to be done. - Mark Y, Point Chevalier

(Pool Owner's Manual supplied with pool has instructions included will end you another copy)



Our pool is still going strong with no problems after six years now!
I just wanted to touch base with you as I am now a Real Estate agent and have met a few people wanting pools etc, and I'd love to be able to give them your card as a recommendation. - MJH, Greenhithe -




The pool is magnificent! Cascade very promptly dealt with any queries I had, the installation crew were very good - outstanding, in fact! The coping installer was precise and clean - no cement dropped into the new pool!
Have recommended Cascade to all my friends who are thinking of a pool! - S McL Cleavedon



love it! Recommend Cascade to a friend who has now ordered a pool for his family!
Pool Timer failed in first week, but Cascade replaced it immediately, and it seems fine now.
The installation crew were friendly and obliging.- Ron S, Northcote -



Very happy with its (the pool) shape & colour are great! Crew were great to work with
- their work ethic was exceptional. Bit of a nightmare organising pool fencing
- I should have let Cascade do it as they did offer to! Silly me!

Generally very pleased with the whole project - Rod G, Dairy Flat - Rodney District
.

Reset 27.05.2015

Comments may have been edited and/or paraphrased for brevity and coherence
CASCADE has been building pools for New Zealand Families since 1971!