F.A.Q. - FREQUENTLY ASKED QUESTIONS
The most commonly asked questions we receive!

(Click on the underlined link to jump to the Answer, or just scroll down through them all!)
To return to this page, click on the red arrow (shown below) at the end of each answer.



Q. WHY DO PEOPLE WHO HAVE THEM SAY THAT CASCADE IS "THE BEST" POOL FOR THEIR FAMILY?
Q. HOW LONG DOES IT TAKE TO INSTALL A CASCADE POOL?
Q. HOW MUCH DOES A TYPICAL FAMILY SWIMMING POOL COST "ALL UP"?
Q. WHAT ARE THE "HIDDEN EXTRAS" I KEEP HEARING ABOUT?
Q. WHY IS YOU POOL CALLED A "SOLAR HEATED" - AND HOW DOES INFILLFOAM SAVE MY HEATING COSTS?
Q. HOW LONG HAS CASCADE BEEN BUILDING POOLS IN NEW ZEALAND?
Q. HOW DO THE GUARANTEES WORK? HAS CASCADE BEEN BUILDING POOLS LONGER THAN THEIR GUARANTEES?
Q. WHAT IS AN "AQUALUX" LINING AND WHY IS IS SUPERIOR TO OTHER NTERIOR FINISHS?
Q. ANOTHER POOL COMPANY TOLD ME (BLAH BLAH BLAH) ABOUT CASCADE
Q. IS THERE ANYTHING THAT CAN DAMAGE THE AQUALUX INTERIOR?
Q. WHAT ABOUT SHRINKING SOIL - MY LAWN HAS CRACKS IN SUMMER - IS A CASCADE POOL OK HERE?
Q. CAN I HAVE A SALT POOL INSTEAD OF "CHLORINE" - THEY SEEM SO POPULAR?
Q. I AM ALLERGIC TO CHLORINE - THE SMELL MAKES ME ILL!
Q. WHAT, EXACTLY, IS CHLORINE?
Q. WH
Y
HAS OZONE PROVEN TO BE MUCH BETTER THAN JUST 'CHLORINE'??
Q. ARE THE CLAIMS MADE FOR SOLAR HEATING SYSTEMS ACCURATE?
Q. WHAT ABOUT HEATING A CASCADE POOL - WHAT'S THE PREFERRED METHOD?
Here are the answers!


Q. WHY IS CASCADE ULTIMATE "THE BEST" POOL FOR MY FAMILY?
A. How about ... low or zero maintenance, no "pool slavery" to keep it maintained, lowest (no) pool chemical requirement, (OZONE ASSIST replaces chlorine) much softer satin smooth 'child friendly' interior on your children's feet, much faster installation times, fully insulated pool walls 90mm INFILLFOAM for maximum heat retention and lowest heating bills - these are the things that add up to making your "pool experience" an enjoyable one ... and add up to CASCADE AQUALUX INTERIOR POOLS being "The Best Pools Money Can Buy"!

Experience and History! For a company to remain in business for more than 45 years - they must be doing something right! Also - the pools are GREAT and Long Lasting! Beautiful Concrete Swimming Pools - and the AQUALUX interior pools are SUPERIOR to all other pool finishes ...




Q. HOW LONG DOES IT TAKE TO INSTALL A CASCADE POOL?
A. The Building Approvals are needed for all pools, and can take from one to several months to obtain. Once the Approval has been granted, depending on Crew Availability, we can usually start withing a week or two. The ULTIMATE pool shell usually takes less than Five Days from excavation to concrete placement, then there is a small wait for the pool copings and pool surrounds to be finished where specified during the 14 day "curing period" for the concrete.The interior is vacuum formed (like MDF) into the concrete shell for a long lasting and attractive pool finish.




Q. HOW MUCH WILL IT COST FOR A CASCADE POOL?
A. The pool business is very competitive - and with no Government Licencing of pool builders, there are a lot of "one man bands" out there who may work very cheaply, but also may have difficulty 'getting back to you' should any problesm arise..
An average fully equipped family pool (say - 4.5 x 9.0 meters) is usually around $35,000 to $45,000 - including $5,250 to $6,750 of GST - but can be quoted up to 10% less by some builders and 10% more by others.

The cheaper builders do not normally mention extra cost such items as: engineering Plans & Specifications ($1,200), Excavation and solil removal ($3,000 to $5,000), sterilisation systems (from $1,750 to $3,500), even water to fill the pool (In Auckland City it's $350 to use their Fire Hydrant to fill an average pool, and $250 per load to fill by Tanker Trucks. Often less responsible Builders use water from your garden hose at $1.75 per Cubic Meter waste charge!) Council Building Approvals (from $2,400 and upwards) not to mention POOL FENCING and PAVED SURROUNDS which may cost up to $10,000 more! All of these costs can add 50% on top of the base pool price.
Cascade quotations always include the potential TCO (Total Cost of Ownership) See 'Hidden Extras' below



Q WHAT ARE THE "HIDDEN EXTRAS"?
A. A Good Question! Cascade offers you a free WRITTEN QUOTATION which attempts to portray ALL the costs associated with a swimming pool project! Schedule "A" the standard pool inclusions, Schedule "B" some extras you might want to add to your pools, and Schedule "C" that every pool will need, whichever company you choose.

It's important to compare "Apples with Apples" - Some builders go to great lengths to hide the "final figure", which can often be 30% more than the "apparent" quotation. Cascade is not frightened to publish its list prices for all pool models, and will NEVER exceed these prices. The only "hidden extras" are the few unknown costs which may be incurred - costs for which there is no easy answer before the work is done and charged for.

These include
(1.) Building Approvals: Gone are the days of the $500 Building Permit! Since the Building Act 2004 costs can vary widely as Councils grapple with the condifions of the Act. North Shore City (Auckland) charges more than $2,000.00
(2.) Excavation & Soil Removal - we don't know in advance how much this is going to be, but allow $3,500 - $5,000 if the bulk of your soil must be removed - more if the trucks can't back up to the pool site and a secondary "bobcat" must be used to trundle soil out to the street!

(3.) Electrical Connection for the pump and pool lights - it varies from job to job, and most people have a local "sparkie" anyway, but allow $1,250 - $2,000 or thereabouts! (People often add 'Garden Lights' to the pool area.)

(4.) Underground Obstacles - we don't know what's down there until we dig the hole - and if we strike ROCK there might be a cost to REBUILD the excavation as well as remove the offending rock! - allow $500 - $700 for the rebuild! We call this the 'Undiscovered Country"

(5.) Tanker Fill water in rural areas, or where there is no Fire Hydrant to use (Your own Bore or Tanks are generally not suitable for filling a swimming pool)

(6.) Extraordinary Council costs, like Resource Consents, Bonds etc. if there is anything unusual about the site, or any Maori Hertiage that has to be addressed by the Brown Unitary Plan (assuming it is adopted).



Q. WHY IS CASCADE A "SOLAR HEATED" POOL AND - HOW WILL IT SAVE ME HEATING COSTS?
A. All swimming pools will receive the same sunlight, but all will give off heat to the surrounding backfill - especially where there is a high water table running around the pool which "steals away" the heat and cools the pool. This translates to two things: (1.) The cost of heating is much greater, and (2.) Your pool is much cooler than it can be. CASCADE ULTIMATE pools are fitted with 90mm of INFILLFOAM - a 90mm thick recycled Insulation material that fits down behind the pool walls to separate the pool from the backfill. This ensures a maximum heat retention for the pool, thus cutting heating costs (where a SolarTrap cover and/or Heat Pump is fitted) and ensuring a "warmer" pool for your enjoyment!
Other pool companies may tell you their pool is 'insulated' but is THEIR insulation 90mm thick RECYCLED refrigeration grade foam? ONLY CASCADE POOLS have this superior insulation!



Q. HOW LONG HAS CASCADE BEEN BUILDING POOLS IN NEW ZEALAND?
A. Cascade AQUALUX interior pools have been constructed in New Zealand continually since 1971 - or more than four decades - more than 8,250 beautiful "Cascade" pools have been installed - more than any other brand of inground swimming pool! Not only are we the "Oldest" pool company, but we have built the "Most" swimming pools!

Our nearest rival (a fibreglass pool imported from Australia) haven't reached 1,200 installations yet (2010)! The 'others' are mostly newcomers and still in the low 'a few to a few hundred' pools - hardly inspiring confidence that they will last in our 'high infrared and UV radiation' country!


Q. HOW DOES THE CASCADE GUARANTEE DIFFER FROM OTHER POOL COMPANIES?
A. Cascade's experience in building pools since 1971 means we have knowledge of how long our pool structures will last. All New Zealanders are covered by the Consumer Guarantees Act, so giving a time is irrelevant, as the Law states they MUST LAST a 'REASONABLE TIME based on the initial cost. So we go one step beyond this and tell you "HOW LONG DO WE EXPECT OUR ULTIMATE CONCRETE POOL STRUCTURE TO LAST"? The answer is 'We have a service life expectation of FIFTY YEARS for the structure. Many of our early pools (prior to the ULTIMATE design) are still in operation 40 years since they were built.

Our experience with ABGAL pool interiors - the "AQUALUX" waterproofing membranes - gives us CONFIDENCE is stating that OUR EXPECTATION is a durable and serviceable interior lasting TWENTYFIVE YEARS. This is dependant on treatment, of course (chlorine pools don't last as long as Ozone pools)
Your 'Cascade' guarantee/warranty will be issued after construction by your Cascade Franchise License Holder or Sales Agent whom you employed (and paid) to install your 'Cascade Swimming Pool'
AND ... YES - We HAVE been in business longer than our guarantees.





Q. WHAT IS AN "AQUALUX" LINING AND WHY IS IS SUPERIOR AS AN INTERIOR FINISH?

A. The Australian manufactured .770mm Aqualux pool lining made of Chlorinated PVC Thermoflex - the same as a Fibreglass pool (except F/G pools are "thermoset" PVC and cannot be recycled) and is totally pH inert, is a superior MAINTENANCE FREE interior finish to a swimming pool, and being more durable than other types of interior surfacing, is better than paint or marble plaster. An added bonus is Algae resistance due to impregnation with SANITISING agents during manufacture. The HUGE RANGE of Marble "look-alike" patterns in many colour choices will bring life to your garden! We guarantee our Aqualux interiors will be 'fit for service' for at least 25 years!




Q. ANOTHER POOL COMPANY TOLD ME (INSERT CRITICAL COMMENT HERE) ABOUT CASCADE
A. One problem about being in business for so many years (since 1971, actually) and having installed more than 12,880 pools and spas (more than 8,300 Aqualux interior pools and 4,500 plaster concrete & spa pools) is that newcomers into the pool business don't have a very long history, so they have to make up 'problems' with other people's products because they don't have enough integrity to simply tell you anything good about their product. This is particularly true of imported pools that for all intents and purposes are almost identical in shape size and colour (all the fibreglass resins come from one single Australian company)

We have heard them all over the years (hopefully)!

They say:

"Aqualux liners tear easily" (try it! I used to offer a free pool to anyone could rip a 2" piece in half! No-one ever managed to do so!)

"The exposed lining above the water level is quickly damaged by the sun" - huh? not to my knowledge - and if this really was a problem, what about the fibreglass pool's rim that's fully exposed to our far greater Ultra Violet and Infra Red waves than in Australia? Have these imports proved the test of time yet (No! - the longest time imports have only been coming into NZ is for 10 - 12 years at the most - and many are only more recent imports!) Are you prepared to be their Guinea Pigs"
"The liners don't last"! Well, that's simply untrue. We guarantee they will remain suitable for the intended purpose (that's what the Consumer Guarantee Act demands!) for at least 25 years - and we have pools at 40 years with the original 1974 liner still intact.

"Concrete pools 'Crack'!" Well - that's enough to worry anyone! But wait - don't all pools have to have an Engineering Design that meets NZ Standards, a PS1 and PS2 on structural suitability, a PS3 on installation procedures, and a PS4 on Engineering Supervision then a Compliance Certificate from the Council? Yes, I know Councils aren't infallible, but surely the concrete pool builders of New Zealand do NOT make pools that crack open! Because if they did- the pools would LEAK! That would be a giveaway, wouldn't it?

"You can't heat a vinyl lined pool because they don't hold the heat"! This is absoulte rubbish as the ULTIMATE pool wih t90mm of INSULATION FOAM inthe wlls makes it the BEST INSULATED POOL in NEW Zealand!
"XYZ pools offer a Lifetime Guarantee"! Oh ... lifetime... that sounds impressive. Who's lifetime? Concrete pools are virtually indestructible (primative concrete roads & buildings from Roman England are still there 2,000 years later) so I guess we could say "Lifetime" for our guarantees too?

As an Engineer, I prefer to quantify actual the time the product is expected to last, which is why we expect our ULTIMATE pools to remain serviceable for 50 years and the Aqaulux interior 25 years (the interior liner can be relaced in one day when needed). When THEY say 'Lifetime" they don't mean what the average Kiwi would think of as a lifetime - they actually mean "it has a lifetime of three years" - or "It won't FADE for a lifetime of 20 years" - so they tell you it has a "Lifetime Guarantee". Tricky? You bet. A bit like getting a 'Life Sentence" for murder - 'out in seven years'!
Rubbishing another company's products is the lowest form of unethical business behaviour used by the desparate salesman who cannot find enough good things to say about his product, so he attacks the opposition with inuendo, introducing fear and unstantiated rumour to unwary inquirers. Run, don't walk - away from these people. If they are prepared to tell 'fibs' to you right from the start - do you really want to deal with them, and give them thousands of your Dollars?


Q. WHAT THINGS CAN DAMAGE THE AQUALUX INTERIOR?
A. Jewellery such as Diamond Rings, Bangles etc. and drinking glasses or barbeque implements dropped inadverdantly will not damage the interior during normal use of the pool - although it's safer to use acrylic glasses outdoors anyway for your own safety!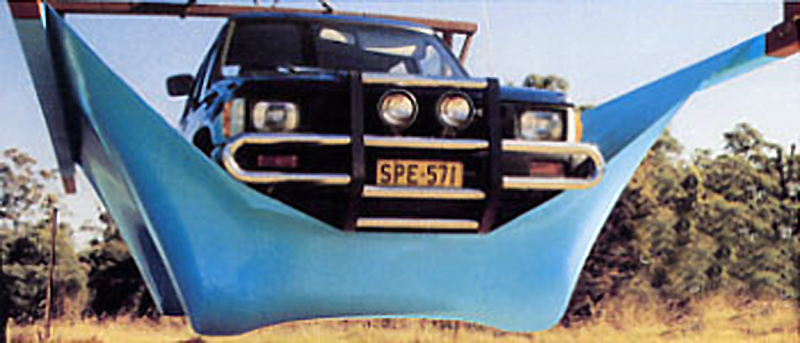 Aqualux 770 is so tough that no human being could even tear a 2" wide strip in half!

As for damaging the liner in other ways, just be sure to keep spear-guns, knives, harpoons, swords, and other weapons out of the pool, and you (and the other swimmers) will have no problems! If anything did ever damage the interior, it can be quickly invisibly repaired underwater without emptying the water!
Remember, your pool (and the Liner) is covered under your Household Insurance Cover - so have no more fears about accidental damage than you would lie in bed worrying about the possibility of a window being broken!

That's what you pay the Insurance Company to worry about!




Q. WHAT ABOUT SHRINKING SOIL - MY LAWN HAS CRACKS IN SUMMER?
A. The Cascade ULTIMATE Aqualux pool interiors will FLEX ... and hence are ESPECIALLY SUITED to the cracking CLAY type soil conditions often encountered in Auckland and elsewhere in New Zealand where ground actually SHRINKS AWAY from pool walls - causing added stress which can damage inferior pool designs.




Q. CAN I HAVE A SALT POOL INSTEAD OF "CHLORINE"?
A. Salt Chlorinators use electricity to extract "liquid chlorine" out of the saline water: in effect are not any different from using any other 'salts' of chlorine - including Magnesium and Potassium Chlorides.

One downside in New Zealand is the rainfall! Averaging 1.2m to 2.0m (48" to 84") a year it is three to four times as much as London, England! This means a lot of your salt water goes down the drain each year as the pool 'overflows', and must be topped up with 3 or 4 heavy (25Kg ) bags of salt each year.

Other problems are (i) "Voltage Leak" whereas a certain amount of DC current is "lost" into the pool water causing a "electric shock" potential to swimmers if the pool is not properly earthed, and (ii) "Splash - Out" of saline pool water which wrecks the paved surrounds and equipment. Many paving suppliers exempt any warranty for ther product is they know a salt pool is in close vicinity to their product.
A far more serious issue the high production of Sodim Hydroxide, which has a very high pH (14) which inhibits the effectiveness of chlorine to kill bacteria and algae.

You must continually lower the pool pH with Acid - preferably Sodium Bi-Sulphite NaHSO3 A.K.A. Granular Acid (not Hydrochloric Acid as it kills the alkalinity as well!)

Magnesium Pools: If the saline solution is substituted with a solution of magnesium chloride and potassium chloride using a similar process of electrolysis you will produce a precursor to chemicals such as magnesium hydroxide (also referred to as Milk of Magnesia) and magnesium sulfhate (epsom salts).

Potassium chloride is better known as a plant food ("muriate of potash,") or fertiliser, and is proclaimed as "suitable growth agent for gardens when backwashing the pool filter" so it's usefulness in deterring the growth of Algea in a swimming pool must be questioned. There is still the issued of "Voltage Leak" mentioned above
These devices are relatively new to the residential swimming pool market, so we need more time - and customer comments - before we can draw a conclusion on whether they are useful)
All in all the "salty" has pretty much seen its day when you compare it with modern products such as Cascade's "Ozone/Aquagenie" system which is offered with the Ultimate range Cascade swimming pool.
PS - Cascade pioneered the early development of Salt Chlorinators, with the introduction in 1973 of the "Aquatech CL450" Refer to this link for more http://www.cascade.co.nz/SaltWater2009.htm



Q. I AM ALLERGIC TO CHLORINE - THE SMELL MAKES ME ILL!
A. Chlorine is a almost colourless, odourless gas. The "smell" of "chlorine is actually the gas (CHLORAMINE) produced by an incomplete oxidisation of nitrogenous matter due the the LACK OF CHLORINE in the swimming pool!

A properly BALANCED POOL will not have this smell, and you are unlikey to be affected by a clean and sterile pool! Cascade's use of OZONE eliminates 99% of the need for chlorine!



Q. WHAT, EXACTLY, IS CHLORINE?
A. Chlorine is a member of the HALOGEN family of chemicals.

This family is well documented as being the most suitable chemicals that are safe to use by human beings in combating bacteria. When added to pool water, chlorine evolves into hypochlorous acid - a compound which eliminates nitrogeneous matter (plant life such as algae, skin flakes, perspiration, urine, bugs, etc.) by a process of oxidation.

Chlorine literally corrodes away the bad stuff!
If insufficient chlorine is present to completely destroy the matter, another compound is formed - chlor-AMINE. This compound smells bad! - and is usually the one that give big brother chlorine a bad name! If you can SMELL CHLORINE - that's a sign that there is NO FREE CHLORINE in the pool! DON'T SWIM!
Other Halogens include: Iodine, Bromine and Flourine.

Most adults are familar with these as chemicals used in the treatment of cuts, sterilising Spa Pools, and flourine for treating drinking water.



Q. WHY IS OZONE SO EFFECTIVE IN KILLING BACTERIA?
A. Ozone (O3) is the most efficient killer of bacteria you can use in a swimming pool!

Ozone generators available on the market include Flourescent Tube, Corona DIscharge, and a combination 'Hybrid UV/CD' type.
The Corona Discharge type produces greater output than the Flourescent Tube types, but cost more to run, so Flourescent Tube units are more commonly used.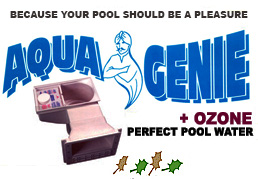 The "kill rate" on bacteria and pathogens is approximately 10 to 25 times more efficient than chlorine, the second runner-up in pool sterilisation.
Ozone is mild in nature, and has a destructive effect on ALGAE and all pathogens including cryprosporidium!

You can have a wonderfully sterile pool that won't go a green colour while protecting the swimmers (your children) from harmful pathogens!

When Ozone is used in conjunction with the incredible AQUAGENIE skimmer systems that Cascade employs, an added bonus is the ozone bubble stream is directed downwards (unlike other pool companies that may use ozone with water-level eyeball returns) so the Ozone microbubbles stay in the pool much longer.



Q. ARE THE CLAIMS MADE FOR SOLAR HEATING ACCURATE?
A. While it is true that solar energy is "free" - the cost of heating a swimming pool by this method is not free!
There are several issues which must be considered.
* The solar panel location should be North facing with approximately 25 degree inclination.
* The panel area should equal the pool area.
* A Pump is necessary to raise the pool water to the panel system, and ideally a temperature differential set-up
to tell the pump when to start (and stop).
All of this is expensive, and should be compared with the cost and running costs for gas and electric heat pumps.

There are no "free lunches" - everything has a cost.
You may find it more convenient to simply "throw a switch" in spring to heat your pool - rather than wait until the declination of the Sun reaches sufficient angle to work effectively with your solar set-up. Ideally a solar system should be used in conjunction with an alternative heat source that can take over when the sun is not shining (which, incidentally, is usually in mid summer, when you need it least!)



Q. WHAT ABOUT HEATING A CASCADE POOL?
A. Cascade recommends heating your pool for extended use.

The use of a Heat Pump to heat the pool water which uses the "FREE HEAT" that is present in the atmosphere is recommended, and it costs less than Gas heater to operate.

Other interesting systems include Solar Heating but solar energy is not generally available when you want it - in late Autumn or early Spring. Our INFILLFOAM walls cut heating costs by up to 90% over other pool types (meaning greater heat loss in non-Cascade pools)

With Gas or Heat Pump you can always "dial a temperature". With the thermostatically controlled Heat Pump, running costs for "extended seasons" seem to average $400 - $600 per six month season for 28 degree "warm water" extended swimming.

The insulative nature of the Cascade INFILLFOAM construction method ensures that Cascade is the EASIEST AND CHEAPEST TO HEAT (Concrete pools are the worst!)


We have a strong Dealer Network which ensures that Cascade pools can be constructed to the same high standars almost anywhere in New Zealand! Apart from ourselves.

Auckland (our largest market) is served by two Authorised Dealers: Cascade Swimming Pools Limited and Cascade Pools Rodney both of whom compete for the opportunity to build you a beautiful CASCADE SWIMMING POOL!

e&oe
Without Prejudice
&copy October 2009, 2020
"At Cascade, we accent the POSITIVE aspect of our swimming pools, and our ADVANTAGES over other types of construction. We do not want to knock the opposition, and prefer to refrain from commenting on any individual, company, or product with whom we may be in competition for your order. We do not want to lose your order because of unfair comments by our competitors, but will not be drawn into a free for all in running down our opposition, as it has no relevance to whom builds the better pool.
As New Zealand's most experienced and respected Pool Company, we know that our product & history will speak for itself - and that no "critisism by the opposition" will reduce the quality of our product" ... Larry Ogden, Managing Director