LIFETIME GUARANTEE: Only Cascade can claim Forty-five plus Years
of continuously building beautiful family swimming pools with the
longest guarantees for fortunate Kiwi families.
Long Experience: We have installed more than 8,450 Cascade swimming pools
and another 4,500 other pools and spas
over the past FOUR DECADES!

Our pools last for Donkey's Years - and we have proof!
Many are close to five decades old and still providing healthy entertainment for kids.
Our ULTIMATE Concrete Pool structural life expectation is 50 years!
Cascade's AQUALUX interiors are the lowest maintenance pools available
- they practically 'look after themselves'. After all - 'Vinyl is Final'
and is the world's material of choice for the 21st Century!
Our AQUAGENIE + PROZONE sterile systems are the cheapest way to provide
a safe & healthy environment for your children and other swimmers
at an amazingly low running cost!
Our INFILLFOAM insulated wall system guarantees 90% Heat Retention
and we recommend a Solar Thermal Retention blanket
- making SOLAR a REAL option for heating our pools

Our OZONE ASSIST system mean getting rid of chlorine,
and Ozone is ten times more efficient at destroying harmful bacteria than Chlorine
- and there is NO 'Chlorine Smell' involved!
Our GUARANTEES are based on more then 40 years experience
- unlike some imorted pools that have only been available for a few years and
have not experienced the high UV Radiation of New Zealand summers
- Our pools have stood the 'test of time' and we can prove it.
Our Guarantees are backed up by the company's History
and are personally signed by the Directors of the company you buy from.
Are the others personally signed?
Our AQUALUX 770 interiors will last at least twenty-five years,
then can be unzipped and changed in just a day or two
- for another twenty-five years service!



One last thing to remember:
We are a Kiwi Company using Kiwi materials & employing good Kiwi people!
CASCADE has been building pools for New Zealand Families since 1971 - more than 45 years!

We are a three-generation family business that can build pools in most New Zealand urban and suburban places
We employ 21st Century designs to trap and contain Solar Heat from the sun - almost a "Solar Heated Pool" you might say
We also prefer non-chlorine pools that require a minimum of chemicals. Not all, but most. Almost 95% chemical free!
We build you a time-tested pool system that minimises tedious "pool chores" and has a comprehensive lifetime warranty
We build beautiful and enjoyable low maintenance pools that your family will love
Call us today or click the Button above for more information, Brochures or a Site Meeting and Quotation

HEAD OFFICE 134A MARUA ROAD, ELLERSLIE, AUCKLAND
AGENTS IN MOST NORTH & SOUTH ISLAND AREAS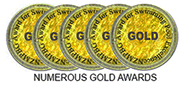 Visitor number



Counter reset 25.08.15